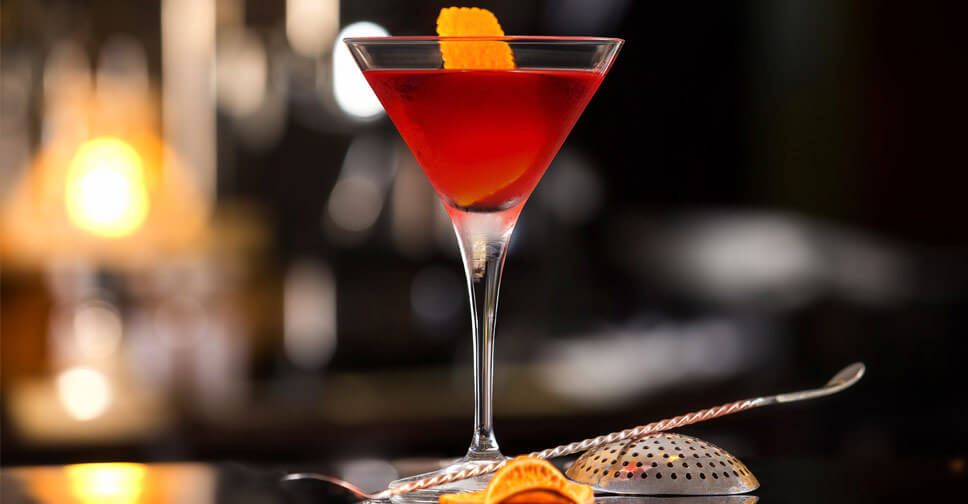 Who would not recognize Manhattan – the most famous part of New York City? We will probably not find many of you and it will be equally difficult to find someone who has not heard about the cocktail with the identical name. Manhattan is one of the most popular and best-tasting cocktails made from whiskey with nearly 150 years´ history. Let´s have a look at the origins of this popular cocktail and its preparation.

Manhattan´s journey from New York to us
In order to look at the origins of the Manhattan Cocktail we need to go back to 1870s and precisely into the famous Manhattan Club in New York City, where the banquet for Samuel J. Tilden was held. Rumors about the tasty cocktail from whiskey, which was served at the event, were spreading fast and it did not take long it became the world´s famous cocktail. And its name – Manhattan cocktail – remains the same today.
The Manhattan Cocktail, which you can get at any decent bar, stays mostly unchanged except for the main ingredient – which is whiskey. The original version of the Manhattan Cocktail was made from rye whiskey, Italian vermouth and Angostura bitters, however nowadays the rye whiskey is commonly replaced with Canadian whiskey or bourbon. Although this cocktail is really simple to make, it has everything that a good cocktail needs – the richness and warmth of whiskey, sweetness of vermouth and bitters create perfect harmony. Manhattan is a timeless cocktail, which is definitely worth trying. Let´s now have a look at its preparation.
How to prepare the Manhattan Cocktail
As mentioned above, you will need just 3 basic ingredients to make the Manhattan cocktail – and also a cherry on a top, as it usually goes with most of the good things in life.
Ingredients:
4 cl whiskey (rye, Canadian or bourbon)
2 cl sweet vermouth
1 or 2 dashes Angostura bitters
1 piece of cherry (for decoration)
Instructions:
Fill the shaker with ice. Then add whiskey, sweet vermouth and bitters, mix well and pour the drink over the sieve into the cocktail glass. Garnish with the cherry.
Variations of the Manhattan Cocktail
Thanks to its simplicity, Manhattan cocktail can be adjusted to everyone´s individual taste and that is why you can prepare different variations of it. We will introduce you some of them.
Dry Manhattan cocktail – replace sweet vermouth with the dry one and garnish with a lemon twist;
Perfect Manhattan cocktail – use 1 cl of dry vermouth and 1 cl of sweet vermouth instead of 2 cl sweet vermouth, garnish with a lemon twist;
Metropolitan (Brandy Manhattan) – replace whiskey with brandy;
Rob Roy (Scotch Manhattan cocktail) – use Scotch whiskey.
Choosing the right cup for the Manhattan Cocktail
We already know how Manhattan cocktail is being prepared and also we should handle preparing its different variations. But what is left to do? Yes, you are right – we need to choose the right glass!
Manhattan cocktail is traditionally served in Martini glass – that is how most of us know it. But what about finding your own way and being original? Next time you prepare Manhattan cocktail, choose a unique glass, which will bring your cocktail to a whole new level, besides distinguishing yourself from the competition and succeeding on social media. Let your glasses do the advertising for you – choose from a wide range of unique hand-made cocktail glasses Hruška Glass.
Our cocktail glasses
If you want to create a unique experience with your cocktails, which is complete the overall look with a unique and original glass cocktail glass. In our range you will find handmade cocktail glasses where every piece is an original. each piece is a work of art created by true masters. All our cocktail glasses are resistant to high temperatures and chemicals. Since we fire them in a kiln at 300 degrees Celsius, they are also resistant to fire. Feel free to test use dry ice without restriction.